The Midlands is the heart of England and the area features everything from beautiful city centres to stunning natural beauty. At its centre is Derby, situated within touching distance of the incredible Peak District. Whilst many people travel to Derby to visit the Peak District on days out, there are plenty of other things to see and do within the city itself.
To show this, the Best Western Nottingham Derby team have put together a comprehensive guide on what you can do in Derby during 2019, with all of these destinations being easily reachable from our hotel's central location. Regardless of whether you want to go sightseeing or prefer more active attractions, this list gives you the top suggestions in the area.
Sights Worth Seeing
Derby has a chequered past and there's still plenty of history to discover today. With this in mind, it's important to take a look at the top tourist attractions and sights to see within and around Derby's city centre.
Derby Cathedral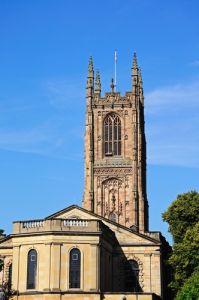 Every officially classed city in the country has a cathedral and Derby is no different. Built in 1532, Derby Cathedral was constructed with the intention of being the second tallest church tower in the country and still holds its place as one of the tallest in the UK. Since the building's initial construction, it has undergone multiple renovations with the most recent occurring in the 18th-Century, leaving us with the Derby Cathedral that we know today.
The cathedral is primarily known for its beautiful, classic architecture and its status as the home of the oldest ring of ten bells in the world. Whether you are religious or not, this iconic part of the Derby skyline is an absolute must-see.
Derby Museum and Art Gallery
Another brilliant display of Derby's history is Derby Museum and Art Gallery, a versatile destination with exhibits covering a range of different eras and topics. Whether you are interested in military history or internationally-renowned artistry, the museum and art gallery will likely be able to cater to your needs.
As with any museum, exhibits are likely to change throughout the year, so make sure to do your research before you visit! Alternatively, visit out of the blue and enjoy the surprise aspect of the trip!
The Heights of Abraham
Only half an hour outside the city centre, the Heights of Abraham are a stunning natural beauty nestled on the edge of the Peak District National Park. Featuring everything from an old mining cavern to a cable car trip that gives you views of the incredible rolling hills, this is an attraction perfect for nature lovers and knowledge seekers alike.
The Heights of Abraham is a two-part attraction with a base village situated in the Derwent Valley connected to Mason Hill's summit via cable car. Alongside the beautiful views available along the cable car ride and at the top of the hill, the destination also features cultural attractions like a fossil factory and the tinker's shaft to keep knowledge seekers engaged. Similarly, for families, there are plenty of activities for children too, ranging from adventure playgrounds to heritage walking routes.
In short, the Heights of Abraham are both beautiful and versatile, with something to offer everyone. You just can't go wrong!
Elvaston Castle
Boasting 321 acres of open park and woodland as well as exquisite historical gardens, Elvaston Castle is a beautiful stately home with origins in the 17th-Century. The estate itself is a brilliant example of 1800s renovation, with each of the building designs being modelled after their original plans from 1633.
For a visitor, Elvaston Castle's major attractions are its vast natural spaces and well-kept gardens, featuring some of the best topiary work in the country and impressive rockwork structure. For lovers of classic architecture and beautiful environments, this is an absolute must-see.
Silk Mill
The Silk Mill is well-known as the first full mechanised factory in the world, making it a true stalwart of British History and earning its status as part of the Derwent Valley Mills UNESCO World Heritage Site. Currently, the Silk Mill is undergoing a restoration and reinvigoration project with a projected opening for 2019/2020, which is why it is featured on this list. The new museum will be dedicated to showcasing items that display Derby's detailed industrial history, as well as explaining the history of the Silk Mill itself. Be sure to do some research and if you can, take a visit to this notable piece of industrial history.
Activities Worth Enjoying
Now that we have looked at some of the sites, we can move onto a few activities that require more engagement and attention. Here, we look into the best that Derby has to offer.
Vintage Flying
Derby and the surrounding area benefit from hosting some of the UK's most exceptional natural beauty. The nearby Peak District is a particularly incredible place to visit, and where better to see it all than from the air?
Derby houses multiple different vintage flying activities where you can spend an hour or two up in the air, exploring the Derbyshire countryside in an iconic aircraft. Whilst opportunities and planes vary, if you love incredible views and want to see Derby from a different angle, definitely consider this as a viable option.
Escape Rooms
Escape rooms have drastically grown in popularity over the last few years and Derby has benefitted well from the increased demand. There is now a range of different escape rooms within the city centre and on the outskirts, allowing you to quickly and easily find a themed room that you like for whatever budget you are looking to spend.
Escape rooms are especially good as a family activity because most require a little help from everyone involved. If in doubt, ask the escape room operator for suggested family-friendly rooms; nobody knows their games as well as they do.
Rock Climbing Centre
Rock climbing has seen a general drop in popularity as technology and portable media have become more accessible. For most young people, rock climbing is something that they have never tried or experienced, which is part of what makes it such a good option for any Derby resident or visitor with a family.
Rock climbing is great for your health, expends energy and offers little ones the opportunity to discover a new hobby or passion. Even if you're just looking to get out and try something a little more active, the rock climbing centre is a brilliant option that engages everyone involved.
Derby Theatre
For those preferring a calmer, less intense type of recreation, Derby Theatre should definitely be on your list. The theatre plays host to a vast range of different performances and productions each year, ranging from thrilling dramas to slapstick comedies. Whatever your tastes and whether you're looking for a family-friendly option or not, Derby Theatre will almost definitely have a production that appeals to you. Just be sure to check availability and book tickets in advance as places can get snapped up quickly on the more popular shows.
Peak District Cycling
As a final idea for the more adventurous types, have you ever thought about taking a day trip into the Peak District by bike? Cycling is great for the mind and body, plus it's family-friendly and gives you ample time to enjoy the breathtaking views. There are plenty of different cycle routes of varying lengths depending on your level of fitness or desired intensity, so it's easy to find something that works.
In 2019, Derby is looking better than ever. These are just ten activities that the city has to offer; a drop in the ocean compared to what is really available. As always, do your research before picking out exactly what you want to do.
If you are looking to make a trip to Derby in the near future, make sure to consider Best Western Nottingham Derby for your accommodation. We are perfectly positioned between the two cities and within touching distance of all major travel networks; perfect as a base of operations when exploring Derby and the surrounding countryside.
Take a look at our competitively priced accommodation or get in touch for more information.