In the courts of the city often called the 'Queen of the Midlands', entertainment is everywhere and attractions abound. Nottingham is a vibrant, bustling city, as rich in history as it is overflowing with culture, class, and style. If you are looking for a trip somewhere south of the North of England, yet somewhere far enough away to escape the "Big Smoke" known as London, Nottingham is your perfect choice. To help you in your decision, here are fifteen reasons why!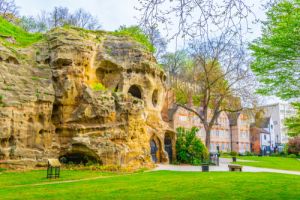 #1 – The City of Caves – Sitting on a soft sandstone ridge, cave construction came easily to past residents of Nottingham. These caves were built over a millennia ago, and have been used for everything from tanneries to wells to air raid shelters to places to carve hovel houses for the ancient poor. With more than 800 known caves spread across the city, there will be something somewhere to fascinate you from the deep past, deep underground.
#2 – Nottingham Contemporary – With its striking green, grey, and golden exterior, constructed in a deeply modern style, just looking at the outside of this structure tells you that you're in for something unique. This is one gallery that certainly does not disappoint! Currently hosting major works including the Mata Atlântica show by the Rio-based Catalan artist Daniel Steegmann Mangrané, and Turner Prize winner Elizabeth Price's solo show Felt Tip, if you want to experience something new, different, and potentially challenging, Nottingham Contemporary is the place to try.
#3 – Holme Pierrepont National Watersports Centre – A little way from the city of Nottingham itself just down the river Trent, this centre features a huge range of facilities, offering everything including sailing, canoeing, kayaking, white water rafting, and even lagoon wipeout. If you and your family are a little more of the landlubber types, they have laser tag and mini golf, or if you want to reach into the clouds, there is the sky trail high ropes course. An active and exciting time awaits!
#4 – Attenborough Nature Reserve – This 226-hectare nature reserve is a pristine collection of lakes, marshland, waterways, and just beautifully tranquil nature. The confluence of the rivers Erewash and Trent form an ideal environment for birdlife, amphibians, fish, and many other kinds of animal. Ideal for a quick stroll, an extended hike, or even a relaxing afternoon wildlife-watching, armed with binoculars, a camera, and a waterproof birdwatching guide. Note – despite its name, the nature reserves holds no connection with a certain famous television personality!
#5 – Green's Windmill and Science Centre – History and science come together in this amazing attraction to give children an exciting glimpse into the past and a chance to wonder at the forces of the universe that could be powering their future. See the working systems that made turning wheat into bread possible, enjoy the variety of interactive exhibits covering everything from magnetism, light and gravity, and spend some time in the Victorian stylings of the community garden.
#6 – The Great Central Railway – The living heritage of Britain's transport history, this centre is an ideal destination for anyone with a fascination for the past and inquisitiveness about the age of steam and the early risings of Britain's apex industries. With a bus collection, three model railway exhibits, and ongoing journeys on historic steam and diesel locomotives, this is one ride you won't want to stay on the platform for.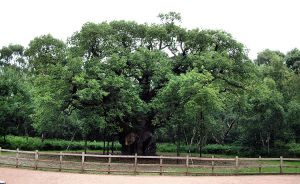 #7 – Sherwood Forest – Sherwood Forest is among the world's most famous heritage forests and, as legend has it, was once home to the infamous outlaw who took from the rich to give to the poor. However, it's not just stories of men in tights to be found here. It's also the site of an ancient Viking meeting place, and biologists believe the forest is home to the last remaining colony of the rare Hazel Pot Beetle. Sherwood Forest offers relaxation, adventure, and a splash of historical spice and natural magic.
#8 – Skydive Langar – If you want to get a rather different perspective on the city, you might want to consider a bird's eye view! This professional level skydiving centre has several highly experienced instructors who have fallen from the sky so many times, you can know for sure you'll have a happy landing. Whether you're looking for an extra thrill, raising money for charity, or you just want an incredible story to tell when you go home, this is the place for you.
#9 – Nottingham Cathedral – This early Victorian Cathedral is no mere historical site - it is an active centre of Christian worship to this day. With a spire reaching 150 metres into the sky, the Cathedral adds an amazing spice and style to the city skyline. A deep oddity in Britain's religious history, since it is one of only four new Catholic Cathedrals that has been built in England since 1852, the cathedral features a stylish fusion of modern sensibilities and classical spiritual focus. Nottingham Cathedral is a popular visitor site for many a fascinating reason.
#10 – The Workhouse – Based in Southwell and also known as the Greet House, The Workhouse was built in 1824 and is one of the best-preserved buildings of its kind to be found in England. With a maximum holding capacity of 160, Greet House life was nothing if not a struggle, with intense tasks, duties, and chores that pushed workers to the absolute limits of their physical endurance, every single day. The Southwell Workhouse in particular became a template for so many others throughout England, developing the notoriously awful system of harsh regimes and prison-style systems. For a chance to understand more about the darker side of the Victorian era, this is the perfect venue.
#11 – Wollaton Hall and Park – Sitting amidst 500 acres of gorgeous greenery, herds of wild deer, and beautiful Georgian lodges, Wollaton Hall stands tall as a striking example of Elizabethan grandeur. Alongside the ancient trees and an exceptionally well-kept botanic garden, the hall itself hosts the Nottingham Natural History Museum, an amazing collection and representation of some of the natural world's most awesome wonders. Boasting a collection of over 750,000 objects, from rare specimens of fascinating fauna to prehistoric fossils of creatures long past, Wollaton Hall has something for everyone.
#12 – Planet Bounce Inflatable Park – The perfect place to let your kids burn off some excess energy and make some fabulous memories in the process! With gargantuan ball pits, enormous inflatable mountains, the crater slide, climbing walls, obstacle courses, and the Rocket Helter Skelter, young ones will find challenges, adventures, and excitement aplenty.
#13 – Adrenalin Jungle – Adventure and activities abound at the Adrenalin Jungle. This fun-founded destination offers everything from paintballing to archery and quad biking. If you're seeking something further off the beaten track, with a splash of danger and excitement for all ages, then Adrenalin Jungle is the place to be.
#14 – The D H Lawrence Birthplace Museum – The childhood home of the literary genius and social rebel that was the author behind Sons and Lovers, The Rainbow, and Lady Chatterley's Lover. This museum offers a unique and valuable insight into the mind of a man who changed so many things about the way British literature dealt with class, society, and intimacy. A must visit for anyone with an appreciation for important novels.
#15 – The Robin Hood Experience – Though he may be nothing but a muddled myth and much-loved legend, Robin Hood has persisted in the minds of millions throughout history. At this interactive museum experience, Friar Tuck can regale you with stories of his and Robin's first encounter, how they escaped trial, and how they first lured the Sheriff of Nottingham into the forest! Learn about the art of archery and see if you can pull the 90lb yew bow, all in the shadow of Nottingham Castle. Learn just why this man was so important and experience the sights and sounds of Medieval Nottingham for yourself.
Whatever you are looking do with your time in the fascinating and bustling city of Nottingham, don't hesitate to investigate and explore the best places to shop, eat, relax, and enjoy yourself in the court of the Queen of the Midlands.